LDS Church releases new essays about women and the priesthood and Heavenly Mother
iStock
Leaders of the LDS Church published two new essays Friday.
SALT LAKE CITY — LDS leaders continued their recent effort to address challenging contemporary questions about Mormon practice and doctrine by publishing two new scholarly essays Friday that address the roles and authority of women in the church.
The first, " Joseph Smith's Teachings about Priesthood, Temple and Women ," is longer, complex and nuanced. The other is about the longstanding belief in a Mother in Heaven , a distinctive teaching in The Church of Jesus Christ of Latter-day Saints.
Approved by the First Presidency, the essays describe the enormous contributions women have made to gospel ministry since the earliest days of the church. Many LDS women and scholars were encouraged by their publication, calling them important contributions and a step forward.
"First, I was overjoyed to see that essays had been penned on these topics," said Valerie Hudson, co-author of " Women in Eternity, Women in Zion " and the George H.W. Bush Chair of International Affairs at Texas A&M. "Latter-day Saints have needed these topics addressed. … Second, I was very happy to see that belief in Heavenly Mother has been 'certified' as being doctrinal through the imprimatur of the essay on lds.org."
The priesthood essay stated that both Mormons and others often "mistakenly equate priesthood with religious office and the men who hold it, which obscures the broader Latter-day Saint concept of priesthood."
That concept requires a full understanding of the use of priesthood authority by women in the church, according to the essay, especially in LDS temples, the ultimate form of Mormon worship.
Women and priesthood
The priesthood essay provided historical context for current dialogue about what the essay called "women's ministry." It pointed out that in 1842 — when American women could not vote, own property or earn money without turning it over to their husbands — LDS founder Joseph Smith created the Female Relief Society "in the Order of the Priesthood after the pattern of the church."
While it said that neither he nor any other church leader ordained women to the priesthood, it clearly stated that women do exercise priesthood authority without ordination.
"I think the essays are a tremendous step forward in clarifying the diverse and nuanced definition of what priesthood really is," said Neylan McBaine, author of " Women at Church: Magnifying LDS Women's Local Impact ." "Not all of our priesthood is gendered, and I think this essay is remarkable in how broadly it defines priesthood."
The idea of a broader concept of priesthood was one of the two most important sentences in the essay, Hudson and McBaine said.
To them, the other vital statement was that "the priesthood authority exercised by Latter-day Saint women in the temple and elsewhere remains largely unrecognized by people outside the church and is sometimes misunderstood or overlooked by those within."
"That's the most remarkable part of the essay," McBaine said. "It's incredible for them to actually draw attention to that. And then to add, 'Women exercise priesthood authority even though they are not ordained to priesthood office' — a reference to a talk by Elder Dallin H. Oaks last year — to have that appear in an official church statement, that women exercise priesthood authority? That's very exciting."
The essay said Joseph Smith taught the temple ordinances to men and women in the final years before his death and promised that they would endow men and women with "power from on high."
"These revelations and ordinances," the essay said, "imparted new understanding of the interdependent relationship of women and men."
Women and authority
LDS women serve in ways that would require ordination in many other religious traditions, the essay stated, such as when they lead Relief Society, Young Women and Primary organizations; preach and pray in congregations; participate in priesthood councils; and serve as missionaries around the world.
In each case, as Oaks said, they are acting with the authority of the priesthood.
"It would be impossible to quantify the impact women have in and on the church," said Sheri Dew, author of " Women and the Priesthood: What One Mormon Woman Believes ." "Right now in more than 180 nations, there are literally hundreds of thousands of women serving in presidencies on both local and general levels of church government who provide leadership for the millions of women, young women and children of the church and who sit as standing members of major councils that direct the affairs of the church.
"And that doesn't count all of those who teach, proselytize as full-time missionaries, officiate in priesthood ordinances in the temple, pray in public meetings and expound doctrine. I have been unable to find any other organization, let alone any other church, where as many women have as much bona fide leadership opportunity and influence as in The Church of Jesus Christ of Latter-day Saints."
Every Mormon woman who has been to the temple knows that women perform ordinances there, McBaine said, adding that this essay will open up discussion about the meaning of that practice.
A beginning
The essay provided important factual, historical context to the conversation about women and the priesthood in the church, but while it goes into depth with its 58 footnotes, it isn't exhaustive, Hudson and McBaine said.
Both felt more could have been shared about the 19th-century LDS practice of women giving healing blessings. The essay acknowledged the history but stated that women were seen to have a gift of the spirit without the priesthood. The practice was discontinued by LDS Church President Heber J. Grant in 1926 based on the Biblical directive to "call for the elders."
That explanation didn't satisfy Hudson.
"In short, this is not, and cannot be, the final word on the subject, as the essay seems as conflicted as the present-day membership on these issues," she said.
The church does plan to provide additional scholarly information about the early roles and ministries of Mormon women.
In March 2016, the faith's official Church Historian's Press will publish "The First Fifty Years of Relief Society: Key Documents in Latter-day Saint Women's History," by Jill Mulvay Derr, Carol Cornwall Madsen, Kate Holbrook and Matthew J. Grow.
LDS historians say that's a big deal because it's the first book the press will publish other than those from the multi-volume Joseph Smith Papers project. Known colloquially in the church history department as the Relief Society documents project, it will provide a major resource for learning about the way women preached, taught, worked and acted in their roles and responsibilities in the early church.
The essay on Heavenly Mother added little that was new, experts said, but it was welcomed particularly on the heels of the mention of her in a talk at the faith's general conference earlier this month by Elder Jeffrey R. Holland of the Quorum of the Twelve.
The essay surveyed 171 years of statements about a Mother in Heaven and reiterated that Mormons follow Jesus Christ's teaching to "always pray unto the Father in my name."
13 essays
The two new pieces are the 12th and 13th in-depth essays about topics of special public interest in church history and doctrine published by the church in The Gospel Topics section of lds.org in the past two years.
The Heavenly Mother essay first appeared online Thursday night after it was leaked to Reddit. The essays had been ready for weeks, church spokeswoman Kristen Howey said, but officials were waiting to post them until they could be translated into other languages.
The church chose to move forward Friday after the leak.
The 13 essays are an effort to provide the most historically accurate information about subjects like polygamy and the past restriction on blacks and the priesthood, according to church officials. They are designed to counter questionable and inaccurate sources with academically rich essays, many of which have dozens of footnotes and are written by historians and scholars.
Each Gospel Topics essay was approved by the First Presidency and Quorum of the Twelve Apostles.
"I think the church history department and the church really have to be commended," said Patrick Mason, the Howard W. Hunter Chair of Mormon Studies at Claremont Graduate University. "These essays represent a really significant step forward in terms of transparency, honesty and reckoning with hard questions and contribute a level of confidence and maturity to the discussion."
Gospel Topics pages enhanced or added at LDS.org since November 2013 include " Race and the Priesthood ," " Becoming like God ," " First Vision Accounts ," " Plural Marriage in Kirtland and Nauvoo ," " Plural Marriage and Families in Early Utah " and " The Manifesto and the End of Plural Marriage ."
The other essays are " Are Mormons Christians ?" " Peace and Violence among 19th-century Latter-day Saints ," " Book of Mormon and DNA Studies ," " Book of Mormon Translation " and "Translation and Historicity of the Book of Abraham ."
Email: [email protected]
Tad Walch
Tad Walch covers The Church of Jesus Christ of Latter-day Saints for the Deseret News.
Faith
Aug. 29, 2018
Frederickson: Sexual immorality, human trafficking are morally indefensible
Faith
Aug. 31, 2018
Herbert: How can you let your inner vessel shine with creative light?
Faith
yesterday
Mission calls delivered to your inbox: You've got mail
Faith
Sept. 3, 2018
President Nelson delivers historic message to Dominican Saints in Spanish
Faith
Aug. 31, 2018
Hamblin & Peterson: What is India's very ancient 'Rigveda'?
Aug. 23, 2018
QUIZ: What do you know about history's great storytellers?
Tap here to turn on desktop notifications to get the news sent straight to you.


CULTURE & ARTS


12 Essay Collections By Women To Get You Through Your 20s
During "the defining decade," it's nice to have some literary commiserators.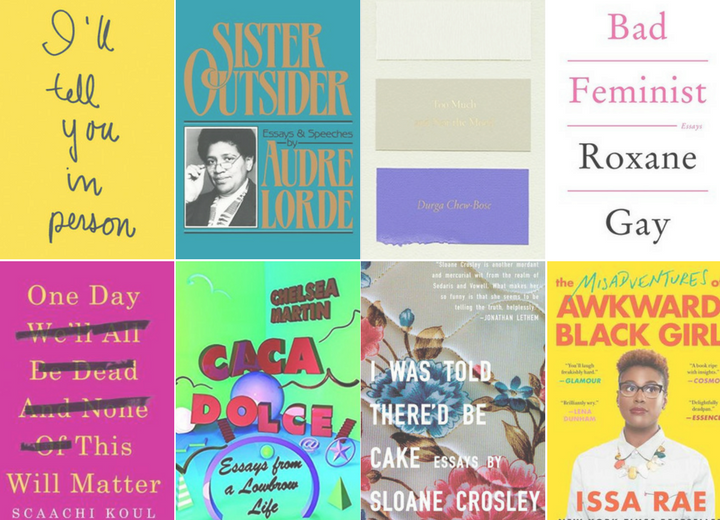 Supposedly, your third decade of life (that is, ages 20–30) is one of your most crucial. During that time, it feels like you're generally supposed to figure out your career, your outlook on life, your love situation, your family plans — no pressure.
Luckily, if you're in the midst of doing more flailing than to-do-list-checking during these years, there are plenty of people who've come before to commiserate, elucidate or simply provide a few laughs through the churning waters of young adulthood.
Behold, 12 great essay collections by women that are perfect for the 20-something in your life (which may be, well, you).
Scaachi Koul, "One Day We'll All Be Dead And None Of This Will Matter"

Picador

Scaachi Koul — a BuzzFeed writer who also played a part in the endearing and odd social-experiment CBC podcast "Sleepover" — has an irreverent, hilarious and searing view on life, encapsulated in her debut essay collection. From her experiences as the child of Indian immigrant parents in Canada, to the very real realities of being a woman harassed online, her prose is illuminating, smart and a good encapsulation of what it means to be young and female in the early 21st century.

Find this book on Amazon or at your local bookstore.

Audre Lorde, "Sister Outsider"

Crossing Press

Consider

Sister Outsider

the cornerstone of your personal feminist theory; Lorde's nonfiction writing on the topic was groundbreaking and influential to today's modern movements when it was published in 1984. Her focus on intersectionality — and her position as both an ally and an outsider by virtue of her race, sexuality, gender and motherhood offer a wide-ranging scope of ideas to chew on.

Find this book on Amazon or at your local bookstore.

Sloane Crosley, "I Was Told There'd Be Cake"

Riverhead

Nowadays, the title of this essay collection feels like it could be slapped on a T-shirt and make a killing at Forever 21, but when Crosley published this confessional, witty collection on what it was like to be young and fallible in the big city in 2008, it felt totally new. Crosley's observations about life are wry and poignant; feel a tear in your eye and wonder if it was from mirth or just from feeling heard.

Find this book on Amazon or at your local bookstore.

Roxane Gay, "Bad Feminist"

HarperCollins

If you've yet to encounter Roxane Gay's illuminating, funny and thoughtful writing, now is the time. In this best-selling collection, the author ruminates on the modern state of feminism and her experiences as a woman of color in a voice that is both learned and accessible.

Find this book on Amazon or at your local bookstore.

Chloe Caldwell, "I'll Tell You in Person"

Coffee House Press

Sometimes you don't need a book to tell you about how to live your life, but instead to pull the curtain back on all of its messiness. Caldwell writes candidly and confessionally, covering the ebb and flow of close friendships, addictions, obsessions and professions. Reading this feels as though you're poring through the emails of a close confidant, one you hope will keep letting slip secrets about growing up.

Find this book on Amazon or at your local bookstore.

Leslie Jamison, "The Empathy Exams"

Greywolf

How should we care about each other? It's a question Jamison asks over and over again in her varied essay collection, covering experiences like endurance races and diseases of dubious legitimacy, as well as her own emotional landscape. This is the kind of book that will make you feel like a better person for reading it, and quickly press your copy into the first friend you see once it's done.

Find this book on Amazon or at your local bookstore.

Rebecca Solnit, "A Field Guide to Getting Lost"

Penguin

"Lost" is essentially how you feel after the pomp of graduation fades away; summer passes, there's no school to return to and now the semi-arduous, often circuitous process of becoming oneself must begin. Allow Solnit to guide you through the various modes of being lost, wandering from topic to topic with a philosophical eye and a diarist's attention to detail.

Find this book on Amazon or at your local bookstore.

Alana Massey, "All the Lives I Want"

Grand Central Publishing

In our 20s, whether at college or in the hazy years thereafter, we have an opportunity to try on different personas: who to be, how to comport our lives. Massey takes this notion and filters it through a pop culture lens, turning the phenomenon surrounding celebrities who often grace Us Weekly and the like into thoughtful musing on public selves, choice and notoriety.

Find this book on Amazon or at your local bookstore.

Issa Rae, "The Misadventures of Awkward Black Girl"

Atria

If you've recently spent time bingeing HBO's

Insecure

, you'll be delighted to know there's plenty of Issa Rae's brilliance in book form, too. In her essay collection, Rae expands on her experience being, well, awkward and black, peppering her hilarious tales of early cybersex or eating out alone with razor-sharp insights on self-acceptance.

Find this book on Amazon or at your local bookstore.

Chelsea Martin, "Caca Dolce"

Soft Skull Press

Martin, a writer who's earned a cult following with her books

Mickey

and

Even Though I Don't Miss You

, turns to nonfiction in her debut essay collection, bringing her irreverent voice to tales of childhood, crushes, art school and the California town she grew up in where people just can't seem to leave. "I stopped using spoons one day," Martin writes in an essay about high school. "I was becoming weird, I knew. And it didn't seem like the good kind of weird, like the eccentric arty weird that could be appreciated by other people." If you can relate, pick this one up.

Find this book on Amazon or at your local bookstore.

Durga Chew-Bose, "Too Much and Not the Mood"

FSG

Chew-Bose begins her collection of thoughtful, poetic internet-era observations with a rumination about a never-used emoji, spinning a throwaway piece of modern communication into a resonant perspective on the act of being alive, one that extends for nearly half of her book. The rest of her essays contain the same hypnotic prose she uses to speak about growing up, having her name misheard by Starbucks baristas and new acquaintances alike, living in the city, and the ever-present compulsion to document life.

Find this book on Amazon or at your local bookstore.

Joan Didion, "Slouching Towards Bethlehem"

FSG

It seems that Joan Didion should go without mentioning, but it'd also be tragic to leave her off this list.

In

Slouching Towards Bethlehem

, Didion chronicles America in the 1960s, homing in on California. Inside, there's also the landmark essay "Goodbye to All That," a must-read for anyone who's imagined crashing into a new city like a wave only to slowly recede from its view once again.

Find this book on Amazon or at your local bookstore.
RELATED…
27 Nonfiction Books By Women Everyone Should Read This Year
23 Recent Books By Women You Should Read ASAP
15 Fantastic Books By Women To Read This Fall
BEFORE YOU GO

Jillian Capewell
Entertainment News Editor, HuffPost
MORE:
Arts And Entertainment
Psychology
Books
Essays
20s
12 Essay Collections By Women To Get You Through Your 20s
Australia
Brazil
Canada
Deutschland
España
France
Ελλάδα (Greece)
India
Italia
日本 (Japan)
한국 (Korea)
Maghreb
Mexico
Quebec
United Kingdom
United States
Get breaking news alerts
Download our app
Go to mobile site
Shutterstock
The Personal Essay Economy Offers Fewer Rewards for Black Women
Writing a personal essay can be a full-body activity, replete with tremors and tears and physical aches. Recollection is strenuous. Recreating a scene can be downright exhausting. In those instances, I prefer the tolls to be paid on my own terms. At my personal blog, I spent seven years writing lyrical essays about life as a black woman grappling with faith, love, her career, and, eventually, motherhood. I did it for free. I did it because, like Joan Didion, I don't know what I think (or why I think it) until I write it. Posting that work online holds me accountable to those thoughts and that reasoning. The responses are both challenging and affirming in ways that can be as informative as the experiences I've written. Even now that I'm regularly paid to write—and now that what I write isn't so personal—I still blog. It's how I check in with myself.
Recently, personal essays have moved back into the spotlight: Earlier this week, Slate's Laura Bennett wrote about the rise of personal essay writing for online publications, aptly titled, "The First-Person Industrial Complex." Bennett identifies a trend nearly as old as the internet itself that has become newly predatory; she posits that writing about one's most troubling experiences can be exploitative. There's not much money in writing about oneself, and many personal stories are packaged misleadingly for the sake of potentially going viral. Bennett also suggests that the growing trend of pegging personal stories to the news of the day may compromise journalistic integrity. "First-person essays have become the easiest way for editors to stake out some small corner of a news story and assert an on-the-ground primacy without paying for reporting," she writes.
But the driving force of her piece is the assertion that the recent proliferation of terrible, tragic personal essays online have lasting effects on the writers' professional and private lives, and not necessarily favorable ones.
This is, more than anything, a labor problem—writers toiling at the whims of a system with hazardous working conditions that involve being paid next to nothing and guaranteed a lifetime of SEO infamy. The first-person boom, Tolentino says, has helped create "a situation in which writers feel like the best thing they have to offer is the worst thing that ever happened to them."
I followed the ensuing debate silently on social media, seeking out women of color on Twitter first. Fusion's Anna Holmes pointed out how gendered Bennett's piece was—all of its examples of exploitative, "confessional" writing were women's essays, while its examples of well-done personal essays were mostly written by men. Buzzfeed's Bim Adewunmi stated that labeling writing as "confessional" in the first place is gender-biased . Latoya Peterson's comments in a round-up of editorial voices—again, all women—at The Guardian hews closest to my own opinion and experience:
This overshare, gross-out phenomenon of "first-person writing" is generally a door that leads to more fame and work for white women. It is selling pieces of yourself to get bylines. This route to publication and a book/movie deal simply is not open for non-white women. Society sees women of color's shameless writing as proof of deviance, not a relatable and fun story to share on social media.
---
Rarely is a black woman writer plucked from the world of online personal essay writing and offered a major publishing deal like Emily Gould, whose success Bennett attributed to her confessional blogging, or Cat Marnell, who famously netted a $500,000 advance from Simon & Schuster for a proposed memoir based on the self-destructive, drug-fueled exploits she once blogged about at XOJane and Vice for what was likely far less money. (Though Marnell was an employee at XOJane, they paid as little as $50 for 1,000-word personal essays in 2014, according to Scratch magazine .) Vice has also been known to underpay its freelancers and full-time employees, as noted in a Gawker profile on the company.
Peterson mentions just one example of a confessional, potentially scandalous memoir by a young black woman writer, Helena Andrews-Dyer's Bitch is the New Black . "[T]he lingering notes from that work are not sexual, but rather about friendship and hollowness and the vulnerability of black women," Peterson writes. "We always have to bring more to the table."
Get the latest from TNR. Sign up for the newsletter.
For my own part, I can think of just one other: Samantha Irby's 2013 essay collection, Meaty , which belongs to the same aesthetic group Bennett and Peterson discuss. The book is a mortifying, deeply personal, humorous work about some of the worst and best moments of Irby's life.
Meaty was published by a regional, independent press, while Harper Perennial—a comparative behemoth—published Bitch Is the New Black. Both books enjoyed critical acclaim, and Andrews-Dyers' book was even optioned for feature film adaptation. More impressively, neither author found herself pigeonholed as an "identity writer" post-publication.
That might seem obvious, but it's shocking because in so many other cases, when women of color write about their personal experiences, they're asked to make a cottage industry of their encounters with racism and sexism. It feels insidious: Place one successful, gut-wrenching piece somewhere, and then hear "no" until you write another one like it, until you exploit personal trauma for a byline. Often, like Bennett mentions, the pieces are tied to news of violence or discrimination due to race or gender. It's an experience Cord Jefferson wrote about last year in one of the personal essays Bennett commends, " The Racism Beat ":
If you're black and your beat is to offer your thoughts and opinions on the degradation of black Americans, you'll never want for steady work. A steady mind is not guaranteed.
Neither Irby nor Andrews-Dyers's books marked the beginning of a renaissance in confessional memoir publications for young women of color. Typically, the ones that make it to mainstream publication are written by authors who've already earned fame in other arenas. (Consider webseries creator/producer Issa Rae's The Misadventures of Awkward Black Girl and trans activist, magazine editor, and MSNBC host Janet Mock's Redefining Realness . Both were on the New York Times Bestseller list.)
Historically, the expectation of personal writing about black life seems largely rooted in exceptionalism. Some of the earliest black memoirs were narratives about escape from enslavement, and being relatively successful afterward. Harriet Jacobs' Incidents in the Life of a Slave Girl, The Autobiography of Frederick Douglass, and Booker T. Washington's Up from Slavery are just three of many early personal narratives about black life that center on horrific treatment or living conditions—and eventual triumph. They've each become a model of the genre, in their own ways. Publication of black memoirs and autobiography is usually contingent on prevailing over systemic bias, discrimination, or oppression.
In early summer, ThinkProgress published a short wish list titled, "If These 5 Black Women Wrote Memoirs, We'd Pick Them Up In A Second." With the exception of Roxane Gay, no one on the list is known as a personal essayist. They're history-makers: Bree Newsome, Laverne Cox, Ava DuVernay. A Goodreads list of 165 black memoirs also indicates that stories of heroism and changing the course of history predominate the small market.
No one's paying us book advances to behave badly or to bare our souls—unless bad behavior involves trysts with married sports and music stars, as in the case of Karrine Stephens's Confessions of a Video Vixen , which chronicled her impoverished childhood and rise to fame (or infamy) through relationships with famous men.
---
By the same token, some of the most compelling personal writing—harrowing or otherwise—the Internet has produced is the work of writers of color. LaToya Jordan's " After Striking a Fixed Object ," about life after a car accident that left her disfigured, is incredible for its ability to recreate a jarring, life-altering event and the way it chronicles the long process of coping that followed. Sara Bivigou's "The Bad Blood," about living with sickle cell anemia, is compelling in that it humanizes a disease that disproportionately affects black people while heartbreakingly describing the ways people with chronic illness "cheat" themselves into behaving as though they're well. Saeed Jones' "How Men Fight For Their Lives," written in 2012, before he was a National Book Critics Circle finalist, PEN Award winner, Buzzfeed's literary editor, or publishing a memoir, was first published at The Rumpus as a standalone personal essay. Aside from its remarkable writing, the piece seems eerily prescient now for its lines on seeking out harrowing experiences in order to write about them: "You have to understand I had been passive aggressively trying to get myself killed for months," he wrote then. "I was also on a constant vigil for "writing material" which, I now know, is basically the same thing as passive aggressively trying to get myself killed."
There are few exceptions to the rule that black confessional writing doesn't get published. In a 2011 Publishers Weekly profile of 11 agents and editors of color, only one indicated that he's looking for memoir submissions.
I dream of writing a book about motherhood. But if publication of memoirs by women of color lags significantly behind those penned by white women, the disparity is even wider for black mothers. In a 2008 piece for Bitch , Deesha Philyaw recounted one memoirist of color's experience pitching a motherhood memoir:
Lori L. Tharps, author of Kinky Gazpacho: Love, Life and Spain, approached her agent with the idea of writing a mommy memoir. […] "She told me, 'Please don't do that.'" The market was glutted with these books, the agent lamented—and Tharps […] let it go. 
I can see the agent's point about the glut, but in the 15 years since the publication of Operating Instructions, why weren't black-authored mommy memoirs part of that oversaturation? […] The absence of black mommy memoirs mirrors the relative absence of black women's voices in mainstream U.S. media discourse about motherhood in general.
In 2015, expecting to jump-start a longterm writing career based on the virality of one or more personal essays requires a good deal of privilege and delusion. As Bennett's piece indicates, that ship is sailing. Easy, daily access to writers' most devastating experiences is decreasing the demand for full-length memoirs from the online personal essayist. But even when the stakes are lower and a writer is simply looking to raise her professional profile or earn extra money, personal essays aren't always an advisable route. After a few days, discussion about those pieces wanes and after one bill payment, the money is a memory.
Despite the drawbacks, I still think there's a great deal of value in sharing our human experience with one another. Whether it shocks, evokes empathy, inspires, or infuriates, that writing connects and humbles us. It challenges us, not just to be better writers, but to be better people. And, no matter its reception, personal writing is instructive, reminding us as often which experiences should be shared as which we should keep for ourselves. No payment or publishing deal can replace that.
New arguments.
New insights.
Get
TNR'
s latest
every weekday.