Essay Busters is a non-profit educational organization that gives underprivileged high school students the essential writing tools to tackle the college admissions process. Essay Busters uses the college personal statement to teach economically disadvantaged college-bound students how to communicate "Who I am" through the written and spoken word. And no less important, EB saves overworked, underpaid guidance counselors hours of work, giving them the time to effectively guide their students to the right college.
THE PROGRAM
Upon completion of the EB program, all students will have mastered the most difficult part of the college admissions process—the personal statement. Additionally, EB will assist with supplemental essays, and the students will participate in an interview skills workshop. Throughout this experience, the students are encouraged by mentor role models, empowered, and exposed to a supportive and caring environment that will solidify lifelong personal and even professional relationships.
Essay Busters connects about 30 young-professional mentors (per partner school or program) to work with 1 to 3 students each
Students find us through their high-school guidance counselor or an after-school program
Students sign up through their high-school guidance counselor or an after-school program
Work takes place at the school or after-school program office
The mentors meet with the students on-site only and meet for approximately two hours each session over ten different sessions

ALL UNDERSERVED STUDENTS ARE NOT CREATED EQUAL
The top and bottom students of a class typically receive help from many sources, which target these at-risk students as either "promising" or "in desperate need of help." This leaves at-risk students in the middle without the proper guidance that they deserve. Essay Busters serves those "mid-range" students: average college-bound students, unqualified for programs that place them at the top or bottom of their academic peer group, who do not have the money to hire test-prep services or private educational consultants. Half of the students in each program must have federal Title I status—which refers to those students who are eligible for free lunch due to their family's economic status. Almost all of the students who participate will be "First Gen"—the first in their family to go to college. Since 2008, Essay Busters has worked with underserved students at many different schools and/or after-school programs in New York City and Westchester County, including:
Williamsburg Charter High School
Brooklyn, NY
Renaissance Charter High School for Innovation
Harlem, NY
Yonkers Partners in Education
Yonkers, NY
Cambria Heights Academy for New Literacies
New York, NY
Academy of Environmental Leadership
Brooklyn, NY
Martin Luther King High School
New York, NY
Edward R. Murrow High School
Brooklyn, NY
Lincoln High School
Yonkers, NY
Sheepshead Bay High School
Brooklyn, NY
Cambria Heights Academy for New Literacies
Queens, NY
Saunders Trade & Technical High School
Yonkers, NY
Roosevelt High School
Yonkers, NY
Groton High School
Yonkers, NY
Groton High School
Yonkers, NY
SEE OUR VIDEO ON YOUTUBE
joXwnG6_nL4
STATISTICS:
According to National Center for Education Statistics, Over 8 million students applied to college last year.
According to the Princeton Review, 10 million financial aid applications were filed in 2013. That's about a million (or 11%) more than the year before. More applications mean more competition
for aid. The 500+ students who participated in Essay Busters in 2013 received approximately $3 million in financial aid.
Better applications means more students getting into college and Essay Busters makes sure that happens. Students who participate in Essay Busters are more likely to receive financial aid.

Essay Busters currently operates at a handful of schools. Expanding our reach should be easy, given the need, but there's a problem: outreach, growing the program, and recruiting mentors for each school takes time and, of course, money. We are in need of your help so that we can afford to continue our programs next year at our current schools, as well as expand to others.
Our program is free for the students, and we would like to keep it that way. It costs approximately $125 per student, or $7,500 per school.
Our 2014 fundraising goal is $50,000. This will cover our current operations & our expansion efforts.
To find out what your gift will do for us, or if you have any questions about our operations and funding needs, please contact us.
Essay Busters is actively looking for potential corporate sponsorships & partnerships. If interested please contact us at [email protected] .
Essay Busters is a New York State not-for-profit corporation.

Contact us if interested
in applying to become a mentor.
Click here to download
our mentor application.
Our volunteer mentors work closely with our college-bound seniors for approximately 10 sessions. During this time, mentors partner with 2 to 3 students. They help them write college essays, finalize college applications, and create long-lasting bonds with their students. Mentors are an integral part of the college admissions process that teaches what accountability and commitment really mean. Mentors might start in order to build a resume, but always return a second or third time—they get as much as they have given. Every mentor is required to attend a training session at the Essay Busters office before the program begins.
Our Mentors:
Mentors are typically graduates of top-tier colleges
Mentors are young yet seasoned professionals working in a wide array of industries from top financial institutions to public education
Why Become An EB Mentor?
Have an opportunity to show what's possible by serving as successful role models to underserved students who need to "see" how to get to college
Empower and change the course of your mentee's life while teaching the students how to communicate "who I am" through the written word
Lower the burden on overwhelmed, underfunded high-school guidance counselors

Evan Forster – Founder
Founder Evan Forster has a BS in Speech from Northwestern University and MFAs in Screenwriting and Film Production from UCLA. What distinguishes him as an educational consultant is his professional background in storytelling, including as a journalist for such publications as New York, Details, Cosmopolitan, and Seventeen, where he was the College Editor for four years. His accomplishments in storytelling, particularly in the short form, inspired him to launch Forster-Thomas Inc . with co-founder and Yahoo! Internet Life magazine editor David Thomas. Forster is also co-author with Thomas of The MBA Reality Check (Prentice Hall/Penguin Press, 2010), co-host of the radio show " Job Talk with Auntie Evan and Uncle David ," and a 2012 recipient of the Irvin Katz Memorial Award for Mentoring Children. For 18 years, Forster has worked with three different nonprofits, most recently, for 12 years, as the College Adviser at the New York City–based nonprofit Chess-in-the-Schools. There, he launched the Friday Night Mentor Program. In 2008, he launched Essay Busters at the Williamsburg Charter High School. To date he has brought this program to more than 11 schools and organizations throughout NYC and Westchester, including YPIE , RAPP , and Renaissance Charter High School for Innovation. You can contact Evan at [email protected]
Roberto Pineda Sanchez – Program Coordinator
Roberto likes to summarize his life in one-word: adventure. Originally from Lima, Peru, his family moved to Florida when he was eight to pursue the mythical American Dream. At twenty-one he graduated from Rollins College with an honors degree in theatre, and promptly moved to New York City. He has performed several times in the city, and is currently pursuing several writing and directing opportunities. As the new Program Coordinator at Essay Busters, Roberto gets to use the five years of experience he's amassed having been a Mentor and Mentor Lead since Essay Busters' inception. His favorite part of Essay Busters? Seeing the mentors really bond with their mentees, transforming both the students' and mentors' lives.
You can contact Roberto and [email protected]
John DaCosta — Summer Mentor Lead
John grew up in Honolulu, earned his BA in Philadelphia and Tokyo (the first in his family to attend college), and in 2008 moved to New York City for work. John joined Essay Busters in 2011 and hasn't looked back ever since — it's his favorite part of the week. John is currently responsible for helping organize Essay Busters: Yonkers, where 20-30 mentors work with about 60 students. John's other interests include cooking, reading, soccer, and sometimes beer pong.
EVAN ADDS: In addition to his conscientious board work over the years, DeCosta has recently led several kick-ass fundraisers, friend-raisers, and mentor social events. But his recruiting success — dragging 25 young professionals out of bed to get the 9 am train from Grand Central to Yonkers every summer Saturday—is the greatest testament to his ability.
Casey Schaaf — Assistant Mentor Lead
Casey graduated from Kettering University in 2009, and currently works at NYU Langone Medical Center in the Lean Management Office as a Lean Six Sigma Black Belt, where he guides groups and makes process improvements throughout the hospital.
Casey loves having the opportunity to support under-served youth in Yonkers and provide resources that would not otherwise be available to them. Every year he is amazed by the obstacles the students have overcome, and he is proud to assist them in writing their story.  He particularly enjoys the backyard barbecues, mostly because he gets to DJ.
EVAN ADDS: Casey seemed to appear out of thin air as we were running down to the wire on one of our friend-raisers. He asked the right question; namely, "How can I help?" Casey is an organizational and logistical Energizer Bunny — he never stops.  He even comes with music — no Essay Busters party is complete without DJ Schaaf spinning!

Since 2002, Forster-Thomas, Inc , a NYC-based educational consulting firm, has been dedicated to helping at-risk youth gain access to first-rate colleges and universities. In 2008, Evan Forster, founder of Forster-Thomas, was asked to speak for 45 minutes about writing compelling college admissions essays to 40 low-income, underserved high school seniors at a Brooklyn, NY charter school. As he closed what had turned into a two-hour, interactive discussion about topic choices, "telling the truth," and "digging down deep"—now the hallmarks of Essay Busters—the students, some high achievers, but mostly mid-range achievers, began to ask, "So, when're you coming back?" and so did the overworked guidance counselors.
These underserved students wanted and needed more help. But what was clear that day was that it was not merely the top performers who were asking for "more." The stunning part of that afternoon was that the middle-performing, academically average students were the ones asking for more help—but unlike their high-performing classmates, they had nowhere to go. They simply weren't academically strong enough to get help from The Posse Foundation or wonderful organizations like it, nor were there dedicated guidance counselors to give them the necessary focus in and on the college application process.
Two months later, Forster-Thomas enlisted the support of that school's overworked and overwhelmed guidance counselors and 30 young professionals who returned to lend a hand and became part of the first Essay Busters program. In 2012, our extraordinary mentors began the process of transforming Essay Busters into a non-profit entity.
With your help, we literally are The Little Engine That Can.
OUR STUDENTS HAVE BEEN ACCEPTED TO:
Dartmouth College
New Hampshire
American University
Washington, D.C.
Drew University
New Jersey
University of Rochester
New York
Wesleyan University
Connecticut
Cornell University
New York
Alfred University
New York
Sarah Lawrence College
New York
Central Michigan University
Michigan
NYU Polytechnic Institute
Brooklyn
St. Lawrence University
New York
Norwich University
Vermont
Hofstra University
New York
Mount Holyoke College
Massachusetts
TESTIMONIALS
"I don't have a mom and I can't afford SAT prep. I didn't even know what going to college meant until Essay Busters."
Naquan Grant – Student 2013
"If I didn't have all of the help I had growing up in Montclair, NJ, I don't where I'd be now. I certainly would never have gone to The George Washington University, so I can't even imagine what it would be like to be my mentee."
James Alpert – Mentor 2014
"This is an org that makes it easier for guidance counselors to be guidance counselors—for me to do my job—and has already changed the lives of the students at Renaissance Charter High School. Essay Busters has led directly to 40% of the first graduating class getting into college. We couldn't have done this alone."
Carly Weckworth – College Guidance
Counselor, Harlem Renaissance
The EB program is in part sponsored by Forster-Thomas Inc. , our NYC-based educational and career consulting
firm, and is dedicated to helping at-risk youth gain access to first-rate colleges and universities.
Music
Style
Culture

Video

Magazine

Events

Shop

US Edition

UK Edition

Canada Edition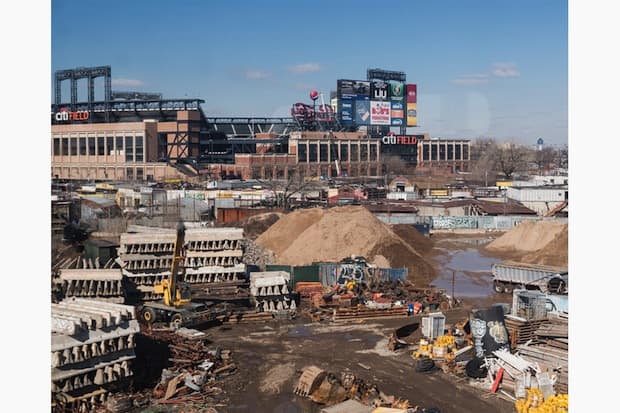 music
Photo Essay: Lost and Gained in NYC
Photographer Matthew Monteith tracks the growing pains of America's biggest city.
Photographer
Matthew Monteith

Share

Tweet

The growing pains of America's biggest city

From the magazine
:
ISSUE 91
,
April/May 2014
When Michael Bloomberg concluded his 12 years as the mayor of New York City at the end of 2013, he left behind a metropolis with a new global reputation. After starting his administration on the heels of the most devastating moment in its recent history, 9/11, Bloomberg helped build the city into something that was, to many, palpably safer, visibly cleaner and, despite its reputation for gruffness, friendlier than it had ever been.
Is it possible that New York lost something in the process? At an economic conference in 2003, Bloomberg said, "If New York City is a business, it isn't Walmart—it isn't trying to be the lowest-priced product in the market. It's a high-end product, maybe even a luxury product." That luxury city is not yet realized, but it's well on its way. The average rate of a rental apartment has increased to over $3,000 a month, while the cost of living in Manhattan for a family of four nears $93,000 a year. At the same time, New York now has its highest homeless population in modern times: over 60,000 people, including more than 22,000 children. As far as safety is concerned, Bloomberg credited a citywide decrease in crime to the NYPD's stop-and-frisk program, a controversial police tactic that covertly targeted young black and Latino men, with the mayor going so far as to say that the cops "disproportionately stop whites too much and minorities too little." The cost of this transformation was not lost on New Yorkers: Bill de Blasio, elected to succeed Bloomberg, ran on a platform of restoring the city to a more equal place, including ending stop-and-frisk, while also maintaining the aggressive economic development of his predecessor.
In the following pages, photographer Matthew Monteith captures four distinct New York neighborhoods in various states of flux: Willets Point in Queens, Hunts Point in The Bronx, The Upper West Side in Manhattan and Bedford-Stuyvesant in Brooklyn. On the Upper West Side, a condominium development now sits next to underfunded and crumbling public housing, while in Bed-Stuy, soaring property values are remaking a historic neighborhood block by block. In Willets Point, a group of immigrant businessmen are fighting a city plan to replace their auto shops with a mall, and, in Hunts Point, a resurgent low-income neighborhood has become a prime target for high-end development.
These are neighborhoods where New Yorkers hustle to make ends meet, make their communities better and simply live in a city that never stops transforming. They're also places where creativity can thrive, if it's supported. No one knows if New York will ever truly be unwelcome to the immigrants, artists, musicians and natives that make it the greatest city in the world; most likely, there will always be pockets of perseverance. De Blasio's election makes one thing clear, though: the city is at a pivotal moment, where inequality can continue, or the administration can take the steps to make it a place everyone can call home.


WILLETS POINT
Situated atop the famous Flushing-Meadows ash heap from Fitzgerald's 
The Great Gatsby
, the auto repair shops in Willets Point speak to the American dream more than a wealthy identity thief ever could. Hundreds of immigrant workers, mostly from South America, labor on cars and sort through scrap metal in this polluted corner of Queens. For years, their shops have operated without proper infrastructure like sewage and in some cases electricity, which has given the neighborhood a reputation as a dangerous slum that needs to be cleared away. Under that justification, the Bloomberg administration pushed through an ambitious, $3 billion redevelopment plan that will decontaminate the area and replace existing businesses with tall apartment buildings, a shopping center and an entertainment complex.
"We're real businesses here, and they want to replace us with another mall, and even more low-wage jobs," shop owner Arturo Olaya told me in his Willets Point office, an improvised structure built above a shipping container. "Where are people going to get their cars repaired? We offer lower prices than everyone else, and the community needs us more than another set of chain stores." Olaya pointed out his window toward another a brand new mall in Flushing, less than a mile away from his shop.

HUNTS POINT
Home to one of the largest food distribution facilities in the world, the Cooperative Market, the South Bronx neighborhood Hunts Point has long been associated with heavy industry, often to the detriment of people living there. But despite decades of abusive policing and waste policies that favored businesses over poor residents, the neighborhood is on the rise, thanks to affordable housing and an active, informed public. At The Point, a community center instrumental in the formation of Hunts Point's identity, famous graffiti artists share space with students looking for after-school help, while teenagers learn radical organizing strategies from older members of the community.
Around Hunts Point, murals, posters and signs decorate the burgeoning cultural center that many low-income New Yorkers call home. Nearby, a revitalized and cleaned-up waterfront has given young people the opportunity to kayak in the Bronx River, along with a place to go during the hot months. But with improving quality of life, more development cannot be too far behind. Already, former factories are being converted into expensive office spaces, and a proposed rail line would put Hunts Point only 15 minutes away from midtown Manhattan. The question for Hunts Point's residents is: how can they make these changes work for them, instead of someone else?

BEDFORD-STUYVESANT
In the north-central region of Brooklyn called Bedford-Stuyvesant, the brownstone-lined streets that were known in the 1970s as the largest ghetto in the United States have seen their inhabitants' quality of life slowly rise over the years along with property values. Along with new zoning laws that have made the construction of condominiums incredibly popular and lucrative, the area is undergoing the kind of demographic shift unseen in New York City since the "white flight" of the early 1960s, but in reverse. Since 2000, the white population has risen by 633% in the northern area of the neighborhood, while blacks have become the minority for the first time in 50 years.
That's led to a major housing struggle, nowhere more evident than in the Broadway Triangle, an 18-acre vacant lot that sits on the border of Bedford-Stuyvesant and South Williamsburg. Planned to be the largest affordable housing development in New York City, countless lawsuits have alleged political corruption and favoritism in the planning, all over the right for people to live in housing they can actually afford.

UPPER WEST SIDE
In New York City, there are 270,000 people currently on the wait list for one of the 178,900 apartments in the city's sprawling and chronically underfunded public housing. The wait can take a decade for New Yorkers looking to land a spot in buildings that have become known for their unsafe and unsanitary conditions. And yet, across the street from the Frederick Douglass Houses on the Upper West Side, brand new condos sit empty.
One of the hallmarks of the Bloomberg administration was the rezoning of neighbor-hoods to allow developers to build luxury housing on the playgrounds and parking lots of public housing, with their entrances facing the opposite direction. Even when the apartments in the new condominiums find buyers, a surprising amount are left vacant anyway: in 2013, the New York Times reported that as many as 60 percent of the units in luxury condominiums are owned by people who never plan to live in them, and have instead bought them for the investment.

Issue 91
Issue 91,
New York,
Photo essay
Trending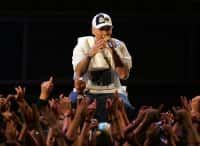 Here are the first week sales projections for Eminem's Kamikaze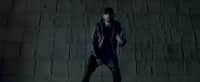 Eminem's "Fall" music video censors homophobic Tyler, The Creator diss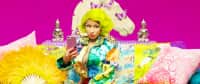 BTS drop new "IDOL" video with Nicki Minaj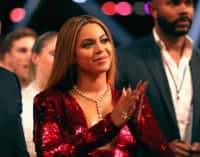 Beyoncé somehow took a magical screenshot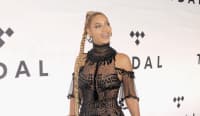 Tidal announces fourth annual Tidal X: Brooklyn benefit concert
music / Features
Photo Essay: Lost and Gained in NYC