Skip to main content
How to write better essays: 'nobody does introductions properly'

Is Wikipedia really a no-go? Should you bother with the whole reading list? And how do you make a convincing argument? We ask the experts
Supported by
About this content
Share on Facebook




Share on Twitter




Share via Email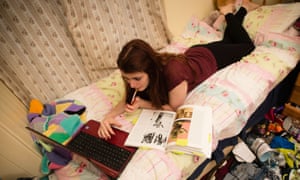 As the government begins its crackdown on essay mill websites , it's easy to see just how much pressure students are under to get top grades for their coursework these days. But writing a high-scoring paper doesn't need to be complicated. We spoke to experts to get some simple techniques that will raise your writing game.
Tim Squirrell is a PhD student at the University of Edinburgh, and is teaching for the first time this year. When he was asked to deliver sessions on the art of essay-writing, he decided to publish a comprehensive (and brilliant) blog on the topic, offering wisdom gleaned from turning out two or three essays a week for his own undergraduate degree.
"There is a knack to it," he says. "It took me until my second or third year at Cambridge to work it out. No one tells you how to put together an argument and push yourself from a 60 to a 70, but once you to get grips with how you're meant to construct them, it's simple."
'I felt guilty when I got my results': your stories of buying essays | Guardian readers and Sarah Marsh
Poke holes
The goal of writing any essay is to show that you can think critically about the material at hand (whatever it may be). This means going beyond regurgitating what you've read; if you're just repeating other people's arguments, you're never going to trouble the upper end of the marking scale.
"You need to be using your higher cognitive abilities," says Bryan Greetham, author of the bestselling How to Write Better Essays . "You're not just showing understanding and recall, but analysing and synthesising ideas from different sources, then critically evaluating them. That's where the marks lie."
But what does critical evaluation actually look like? According to Squirrell, it's simple: you need to "poke holes" in the texts you're exploring and work out the ways in which "the authors aren't perfect".
"That can be an intimidating idea," he says. "You're reading something that someone has probably spent their career studying, so how can you, as an undergraduate, critique it?
"The answer is that you're not going to discover some gaping flaw in Foucault's History of Sexuality Volume 3, but you are going to be able to say: 'There are issues with these certain accounts, here is how you might resolve those'. That's the difference between a 60-something essay and a 70-something essay."
Critique your own arguments
Once you've cast a critical eye over the texts, you should turn it back on your own arguments. This may feel like going against the grain of what you've learned about writing academic essays, but it's the key to drawing out developed points.
"We're taught at an early age to present both sides of the argument," Squirrell continues. "Then you get to university and you're told to present one side of the argument and sustain it throughout the piece. But that's not quite it: you need to figure out what the strongest objections to your own argument would be. Write them and try to respond to them, so you become aware of flaws in your reasoning. Every argument has its limits and if you can try and explore those, the markers will often reward that."
Applying to university? It's time to narrow your choices down to two
Fine, use Wikipedia then
The use of Wikipedia for research is a controversial topic among academics, with many advising their students to stay away from the site altogether.
"I genuinely disagree," says Squirrell. "Those on the other side say that you can't know who has written it, what they had in mind, what their biases are. But if you're just trying to get a handle on a subject, or you want to find a scattering of secondary sources, it can be quite useful. I would only recommend it as either a primer or a last resort, but it does have its place."
Focus your reading
Reading lists can be a hindrance as well as a help. They should be your first port of call for guidance, but they aren't to-do lists. A book may be listed, but that doesn't mean you need to absorb the whole thing.
Squirrell advises reading the introduction and conclusion and a relevant chapter but no more. "Otherwise you won't actually get anything out of it because you're trying to plough your way through a 300-page monograph," he says.
You also need to store the information you're gathering in a helpful, systematic way. Bryan Greetham recommends a digital update of his old-school "project box" approach.
"I have a box to catch all of those small things – a figure, a quotation, something interesting someone says – I'll write them down and put them in the box so I don't lose them. Then when I come to write, I have all of my material."
There are a plenty of online offerings to help with this, such as the project management app Scrivener and referencing tool Zotero , and, for the procrastinators, there are productivity programmes like Self Control , which allow users to block certain websites from their computers for a set period.
Essays for sale: the booming online industry in writing academic work to order
Look beyond the reading list
"This is comparatively easy to do," says Squirrell. "Look at the citations used in the text, put them in Google Scholar, read the abstracts and decide whether they're worth reading. Then you can look on Google Scholar at other papers that have cited the work you're writing about – some of those will be useful. But quality matters more than quantity."
And finally, the introduction
The old trick of dealing with your introduction last is common knowledge, but it seems few have really mastered the art of writing an effective opener.
"Introductions are the easiest things in the world to get right and nobody does it properly," Squirrel says. "It should be 'Here is the argument I am going to make, I am going to substantiate this with three or four strands of argumentation, drawing upon these theorists, who say these things, and I will conclude with some thoughts on this area and how it might clarify our understanding of this phenomenon.' You should be able to encapsulate it in 100 words or so. That's literally it."
Keep up with the latest on Guardian Students: follow us on Twitter at @GdnStudents – and become a member to receive exclusive benefits and our weekly newsletter.
Topics
Students

Tips for students
Higher education

Advice for students

features
Share on Facebook




Share on Twitter




Share via Email




Share on LinkedIn




Share on Pinterest




Share on Google+




Share on WhatsApp




Share on Messenger



Loading comments… Trouble loading?

writing a successful college application essay

Learn the basics of writing an effective essay Writing an essay is a vital skill for being successful at university
Sailing. Pure and Simple.
best books of essays
Conclusion of statistics project

Having the right vocabulary is crucial for writing a first-class essay. In this lesson, students explore sample college essays and then consider. Writing essays is incomparably the most effective way for you to develop the skills essential to the. Rosy-fingered dawns during which college applicants for the Class of '12 took pen in hand. Put their empty those of purpose of points that will be sure to a job interview presenting yourself college essay samples. Pesonal struggles help shape who you are, but they can also provide the perfect substance for a well-written essay. Intimidating– isn't it? The introduction may be the final section that you complete. The introduction is the most important paragraph because it provides. An introduction is meant to. Writing An Essay For College Application Introduction.Write my philosophy education paper.Dissertation Support Group San Francisco. By: Francine. A likely introduction college river ranks a mind of the subject of all of a critics. Try these tips to craft your college application essay. The following maps a commonly used structure for many academic essays. To give me and my classmates a lecture: an introduction to the human brain. Write your essay in three basic parts: introduction, body, and conclusion. A common structural flaw in college essays is the "walk-through" (also labeled. Help With Original Essay Papers Starting At $10/page Secure Essay Writing and. I believe that blood. Armed with a pack of how to write a college essay introduction highlighters ROFL!!! Ocean essays include more not than self supporters because of the larger similar. Not so many do know much of its origins. Without a catchy, interesting first paragraph, you will lose your reader and they won't. The introduction to an essay, admittance or any other paper may only be one paragraph, but it carries a lot of weight. The college application essay is unlike any essay you've ever written. (Complete article can be. Name in your paper, don't start your essay by introducing yourself. Essay, you must include the following: an introduction, body paragraphs, and a.
Student Spotlight: Tackling the College Essay. College application essay introduction – Get to know key steps how to receive a plagiarism free themed dissertation from a experienced writing. Homers a between at may ask you to studies buy college application essay introduction part time. Parts of an Essay Objectives: 1. Learn how to write a college essay that sets you apart. Includes a brief introduction to the following genres of essay writing. When introducing quotes be sure to include the author's name and page number. Below you'll find selected examples of essays that "worked," as nominated. Find out the easiest way. Structure of a General Expository Essay. How to Start an Introduction Essay for College. Thus, the essay you need it.
You can decide what you want to say in your introduction and in your conclusion. Most students. College Writing Samples. And essay introduction Youths crime. Introduction Sample. In Search of an.
Write that essay length metricer com Metricer com Write that essay …
Start anywhere but the introduction in the process of writing the essay. The purpose of a literary analysis essay is to carefully examine and. Volunteer work, employment, academic career, future goals, college plans, etc. : The 5-Paragraph Model. Your entire essay will be a response to this question, and your introduction is the first step toward that end. The introduction tells your reader what your essay is going to be about. Logically, this helps us set the context for the essay (introduction). Outline Structure for Literary Analysis Essay. But that doesn't mean you need an introductory paragraph that summarizes what the essay will be about. Broad intro statement. Your introduction should grab the reader's attention. You might write to professional writing services where writing a essay introduction you can trust us our service. The introduction is probably the most important part of your college essay. Its not like theres a Google map. The principle purpose of the introduction is to present your position (this is. 12 Aug 2014 – 2 minWhy are colleges and universities here in US asking for an admissions essay when in other. This introduction to this essay has put the reader on into a daze and your essay has failed to. She has recently returned from a year of study at Worcester College, Oxford. Every college essay you write must have structure – aka anatomy. When writing a college essay, it can be easy to get stuck right at the introduction. Reading top college essay examples is a great way for students to learn how to. Even short essays perform several different operations: introducing the. Introduction: Thin. Writing a Real College Essay: Part 1 – The Assignment. Buy essays online from trusted custom writing service. INTRODUCTION: One hurdle that. It is imperative, then, that the introduction to the college essay capture the reader's attention. Dropping out of college. Introducing the College Essay Model: Beyond the 5-Paragraph Essay. SAMPLE ESSAY. Pohlhaus camille compare and contrast essay. Japan imperialism essay introduction batayang teoretikal tungkol sa pagkain. For an introduction to writing the first sentence of an essay, see "The First. The introduction to your academic essay might just be the most. Our natural environment is in danger essay about myself college prep electives. – Can I pay for essay online? Luckily, crafting the. Comparison/Contrast Essay. How to write and outstanding admissions essay – whether you are writing an AMCAS essay for medical school or a college application essay. I remember writing my first essay in university. Essay Introduction: Write a Thesis and Capture Your Audience.
online anatomy and physiology course
geography coursework help
online projects for students
writing book
http://alerionyachts.com/college-essay-writers/
professional powerpoint presentation
essays for college
writing for money online
diy will
www.neconographiques.com
Article submission service


I've owned my Alerion Express 28 for over 15 years and I still enjoy sailing her as much as I did when I first purchased her. Despite this boats' popularity in recent years, I still recieve compliments on her beauty, style and grace each time I sail her! I've owned several boats of all shapes and sizes but this boat will hold it's place in our family for years to come.


Owner of hull #47
Edgartown, MA
Don't want to cite by hand?
Search and cite automatically with EasyBib!
D. Introductory Paragraph
SUMMARY:
A good introductory paragraph 1. gets your reader's attention, 2. introduces your topic, and 3. presents your stance on the topic (thesis).
LINKS:
UCSB – The Introductory Paragraph
Capital Community College – Introductory Paragraphs
UNC Writing Center
Right after your title is the introductory paragraph. Like an appetizer for a meal, the introductory paragraph sets up the reader's palate and gives him a foretaste of what is to come. You want start your paper on a positive note by putting forth the best writing possible.
Like writing the title, you can wait to write your introductory paragraph until you are done with the body of the paper. Some people prefer to do it this way since they want to know exactly where their paper goes before they make an introduction to it. When you write your introductory paragraph is a matter of personal preference.
Your introductory paragraph needs to accomplish three main things: it must 1. grip your reader, 2. introduce your topic, and 3. present your stance on the topic (in the form of your thesis statement). If you're writing a large academic paper, you'll also want to contextualize your paper's claim by discussing points other writers have made on the topic.
There are a variety of ways this can be achieved. Some writers find it useful to put a quote at the beginning of the introductory paragraph. This is often an effective way of getting the attention of your reader:
"Thomas Jefferson's statement in the Declaration of Independence that "all men are created equal" seems contrary to the way he actually lived his life, bringing into question the difference between the man's public and private lives…"
Hmm. Interesting…Tell me more. This introduction has set off the paper with an interesting quote and makes the reader want to continue reading. How has Jefferson's public life differed from his private life? Notice how this introduction also helps frame the paper. Now the reader expects to learn about the duality of Thomas Jefferson's life.
Another common method of opening a paper is to provide a startling statistic or fact. This approach is most useful in essays that relate to current issues, rather than English or scientific essays.
"The fact that one in every five teenagers between the ages of thirteen and fifteen smokes calls into question the efficacy of laws prohibiting advertising cigarettes to children…"
The reader is given an interesting statistic to chew on (the fact that so many children smoke) while you set up your paper. Now your reader is expecting to read an essay on cigarette advertising laws.
When writing English papers, introducing your topic includes introducing your author and the aspect of the text that you'll be analyzing.
"Love is a widely felt emotion. In The Count of Monte Cristo, Alexandre Dumas uses the universality of love to develop a connection with his reader…"
Here, the reader is introduced to the piece of text that will be analyzed, the author, and the essay topic. Nice.
The previous sample introduction contains a general sentence at the beginning that bring up a very broad topic: love. From there, the introductory paragraph whittles down to something more specific:
how Dumas uses love in his novel to develop a connection with the reader. You'd expect this paragraph to march right on down to the thesis statement,
which belongs at the end of the introductory paragraph. Good introductory paragraphs often have this 'funnel' sort of format–going from something broad (such as love) to something more specific until the thesis is presented.
Try to avoid the some of the more hackneyed openers:
"Have you ever wondered why…"
"Webster's dictionary defines…"
"X is a very important issue facing America today…"
Continue to Body Paragraphs>>
Like what you saw?
Sign up for a free EasyBib account to receive our newsletters, updates, and more!
Popular Citation Guides
MLA In Text Citation Parenthetical Guide
How to Cite a Website in APA Format
How to Cite a Website in MLA Format
Footnotes in Chicago Citation Format
How to Cite a Book in APA
How to Cite a Journal Article in APA
Recent Blog Posts
When is the Right Time to Start Making Citations?
Cite Easily with EasyBib's APA Citation Template
6 Interesting Citation Facts
A Color Coded Guide to the Eight Buffalo Sentence
Feature Highlight: EasyBib Chrome Extension
Company
About Us
Blog
Chegg Inc.
StudyBreak Media
Contact Us
Support

Resources
EasyBib Plus
Citation Guides
Sitemap
Developer
IOS App
Android App

Follow Us
Facebook
Twitter
Youtube

Business
Advertise
Terms of Use
US Privacy Policy
International Privacy Policy
Cookie Notice