Live yoga classes
'),o.close()}("https://assets.zendesk.com/embeddable_framework/main.js","yogaia.zendesk.com");
zE(function()
zE.setLocale('en');
);

45 Hours of Harmonica Lesson Video
|
Attend up to 12 Live Classes Every Month
|
1-on-1 Private Lessons
Menu

Browse the Website

▼

WHY JOIN?

Member Benefits

FREE Video Lesson/Page Samples
Testimonials
Sign-up FAQS
Gift Membership Info

Plans & Prices

About Us

* Private 1-on-1 Harmonica Lessons:

30-min Online Lesson w/ Dave Gage

* Beginner Harmonica PDF eBook:

Learn from your Phone

MEMBERSHIP
SIGN UP

Getting Started

Beginner Harmonica

Intro Page
Which Harmonica to Buy?
Lesson Plans
Shortcuts for Beginners
More Beginner pages

General Overview

Main Page
Diatonic vs. Chromatic
1st Position
2nd Position
Positions Chart

Video Samples

Beginner Lessons
Advanced Lessons
Members Jamming Live
More Video pages

Instruction

Live-Online-Classes:

General Info
Harmonica Classes Schedule

Techniques:

Single Notes
Holding
Hand Effects
Bending
Breathing

Jamming Techniques
Advanced / Intermediate

Blues Harmonica:

Blues Harmonica Riffs
Techniques Improv
Target Notes
"Jam-To" MIDI File
Improv Tips

Playing Info

Songs/Tabs & Scales:

Master Song List
Tab Categories
Tabbed Solos List
Scales (diatonic)

Harmonicas:

Recommendations
Harmonica Types Defined

CDs: Song Keys

Theory:

Hole/Note Layouts
"Key" a Song
Playing Positions
Making Scales

Terms & Definitions

Harmonica FAQs

More Stuff

Harmonica Players

Playing Out:

Mics & Amps
Recording Yourself
Harmonica for Guitar Players

MIDI / Audio Files

Harmonica Literature:

Featured Articles
Short Stories
Player Analysis
Harmonica History

Chromatic Harmonica

Chromatic Harmonica Songs

Repairs & Maintenance

One Liner Tips

Pricing
Video

▼

Beginner Lessons
Advanced Lessons
Testimonials
Members: Beginners Live
Members: Advanced Live
Brothers Gage Videos
Dave Gage Music
Youtube Harmonica Lessons

About Us
Contact
Harmonica Store

▼

Homepage
Harmonicas
Song/Tab Books
Harmonica Mics/Amps
Phone/Video Lessons

Sign in
Membership
Harmonica Lessons

►

Prices
Video
About Us
Community
Contact
Harmonica Store
◄ Back
Why Join?
Getting Started
Instruction
Playing Info
More Stuff
Harmonica Classes Online: Main Page
ONLINE CLASS TOPICS:

General Information
Harmonica Class Schedule
Archived Class Videos
Current members of HarmonicaLessons.com can take a live, interactive harmonica class. You can participate via text chat and for some classes, you can also be involved if you have a mic and video camera. The class topics vary greatly and span from absolute beginning level to advanced level players.

VIDEO CLIPS: Harmonica Lessons for Beginners
Watch some short excerts from our live online classes. The 4th video is a "Full-Length Online Harmonica Class" where you'll see members interact with Dave as he gives helpful critiques to their playing.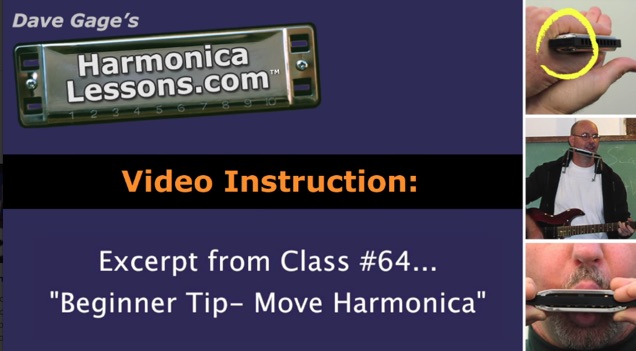 Tip- "Move Harmonica, Not Head"
A simple playing tip to speed up your movement and add accuracy in single notes.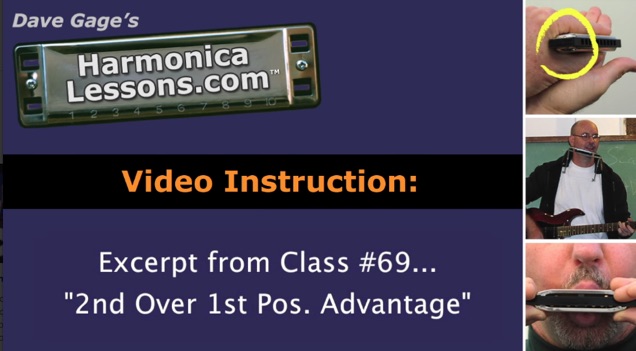 Advantage of 2nd Position
over 1st Pos: Bluesy Bends
In this excerpt, Dave discusses some of the reasons for playing in either 1st Position or 2nd Position.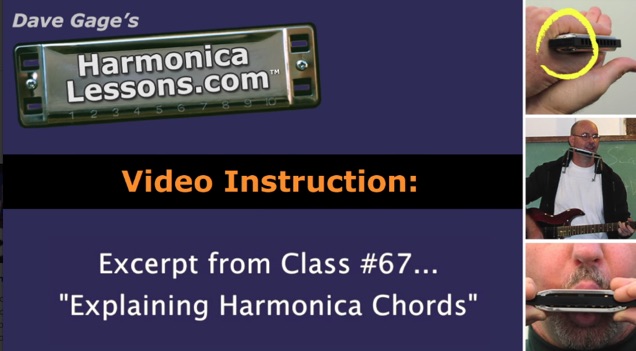 Beginner Harmonica Chords
Dave gives a general overview of what you can obtain from both diatonic and chromatic harmonicas in regards to harmonica chords.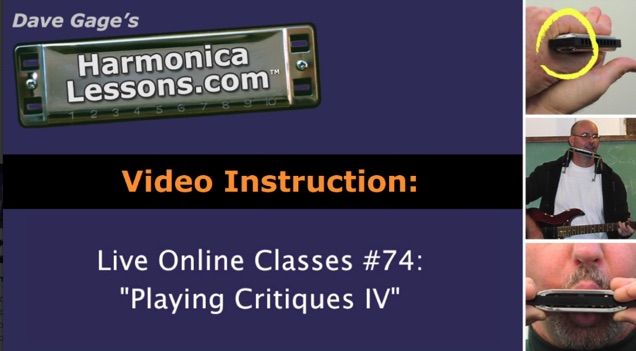 Watch a "Full-Length Online
Harmonica Class"
This is an example of a live online class where members can interact in real time.

| | |
| --- | --- |
| | 12 Live, Interactive Video Harmonica Classes Every MONTH! |
| | Real-time Questions and Answers. |
| | Classes taught by Dave Gage — Pro player and instructor for over 30 years. |
| | FREE with any Membership. |
| | "Playing Critiques" and "Bending Workshops". |
| | A fraction of the cost of in-person harmonica classes. |
| | Attend as many classes as you want. |
| | Use any computer web browser or Mobile Device to attend classes. |
| | Click here for the -Class Schedule- |
Receive Our FREE Newsletter:
Enjoy free harmonica playing tips, songs, and membership discounts! Also, latest sales and news from: HarmonicaStore.com
Copyright © 1999- Dave Gage. All Rights Reserved. | HarmonicaLessons.comTM is a trademark of AYM Music.