Savor Summer College Scholarship
Shop
Register
My Account
Contact
Checkout
$10,000 Scholarship
0 Items
Scholarship Essay Help
How to Write an Amazing College Scholarship Essay
College scholarship essay help is here!
College is increasingly so expensive that parents and their students are desperate to find ways to help pay for it. I helped my son win over $100,000 in college scholarships and want to help you too. How did I do it? Read my story here .
Helping ease the burden of student debt, one college scholarship at a time.
~ Monica Matthews
This post contains affiliate links and I may be compensated a tiny bit if you make a purchase after clicking on the links. Thank you for helping fund the Savor Summer College Scholarship !
You may also like: The College Scholarship Essay – Do THIS, Not THAT
NO time to waste? Learn how to download HOW TO WIN COLLEGE SCHOLARSHIPS right here >>
You have your letters of recommendation, scholarship resume , and have carefully filled out the scholarship application. All you need to do now is write the winning essay. This is where most students need some scholarship essay help.

What can you write about that will get the attention of the scholarship judges?
Where do you start?
What is the secret to writing an essay that will help you win the scholarship money?
The first thing you need to do is understand that the point of a scholarship essay is for the judges to get to know YOU.
They want to know more than your name, date of birth, GPA, standardized test score , etc… The essay allows you to let the judges know your thoughts, feelings, and opinions on whatever subject they want you to write about. They don't want to know facts that they can easily learn from your scholarship application , so refrain from starting your essay with something like, "My name is __________ and I go to _________ high school".
How to Write an Amazing College Scholarship Essay Click To Tweet What you need to do to quickly get the attention of the judges (who have read possibly thousands of essays) is to start your essay with a compelling statement. Draw them in right away and create in them the desire to read your whole essay from start to finish because they WANT to, not because they HAVE to.
How do you do this? Read over the subject of the essay, form your own opinion, and then write your first sentence with a personal experience that you feel strongly about. For example, when you answer the popular essay question, "How will the  scholarship money help you?" you can write something like,
"Sleeping in on Saturday mornings is something that I love to do, but for the past year I have literally dragged myself out of bed so I can go to my local children's hospital and read stories to the kids who are patients there…."
Then you write about how winning the scholarship money will bring you one step closer to realizing your dream of becoming a pediatrician.
Make yourself real to the judges in the scholarship essay. You are much more than a name on a flat piece of paper! Your essay allows you to come alive in the judge's minds, so help them use their imagination to see you with lots of descriptive words, heartfelt emotions, and real-life situations. Use a thesaurus or other writing tools to help you use words that make yourself stand out and be remembered. Always tell the truth.
BONUS: Get your FREE download of my 10 BEST COLLEGE SCHOLARSHIP TIPS that will show you how to find and win more money for school right here now
Never lie in your scholarship essays. Don't have a parent write your essay for you. After reading so many essays, scholarship judges KNOW which students wrote the essays themselves, which ones stretch the truth, and which ones want to win so bad that they will say anything that makes them look better than the other applicants. Find out what college scholarship judges LOVE in their applicants here.


Scholarship essays are a way for the judges to get to know YOU on a deeper level. When you draw them in from the beginning of your essay, tell the truth, and write from your heart, your chances of winning the scholarship money are much greater. 
This scholarship essay help is priceless!
To win scholarships, you need to learn how to create a scholarship application that gets noticed by the judges out of all the other applicants.
Would you like to learn more about winning college scholarships and get even more college scholarship essay help?
My college scholarship guide is filled with unique tips and advice just like the article above. Order your copy here and get ahead of all the other scholarship applicants!
"We are SO excited!  We used the ideas in your scholarship guide and THEY WORK! At a dinner we had to attend to pick up one scholarship check, one of the judges told me that it was the way my son's scholarship application was put together and presented that made it stand out and get chosen among the many that they had narrowed the stack down to. Thank you so much for sharing your ideas!"  S.W., Marysville, MI
READ MORE TRUE STORIES FROM HAPPY PARENTS AND STUDENTS HERE
I NEED COLLEGE SCHOLARSHIP MONEY NOW  >>
Need more help with scholarship essays? 
You may also like:
5 Tips for Rocking That College Scholarship Essay
A Complete Guide to the College Scholarship Essay
College Scholarship Tip:  Understand All Essay Requirements
Quick & Easy Scholarships
$10,000 scholarship, no essay or minimum GPA
$1000 You Deserve It Scholarship
$2500 Christian College Scholarship
$1000 Easy Money Monthly Scholarship
Save
Save
Save
Save
Recent Posts
Don't Text and Drive College Scholarship
Stop Clicking to Nowhere in Your College Scholarship Search
Jack Kent Cooke Scholarship for College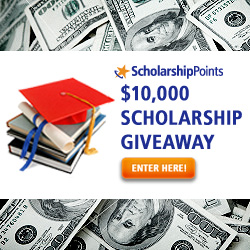 Book of the Month

THIS SCHOLARSHIP
ONLY TAKES
2 MINUTES TO APPLY!
$10,000 scholarship, no essay or minimum GPA

Scholarship Essay
Scholarship essays vary dramatically in subject. However, most of them require a recounting of personal experience. These tips will be more helpful for writing personal essays, like for the National Merit Scholarship, than for writing academic essays.
The most important aspect of your scholarship essay is the subject matter. You should expect to devote about 1-2 weeks simply to brainstorming ideas. To begin brainstorming subject ideas consider the following points. From brainstorming, you may find a subject you had not considered at first.
What are your major accomplishments, and why do you consider them accomplishments? Do not limit yourself to accomplishments you have been formally recognized for since the most interesting essays often are based on accomplishments that may have been trite at the time but become crucial when placed in the context of your life. This is especially true if the scholarship committee receives a list of your credentials anyway.
Does any attribute, quality, or skill distinguish you from everyone else? How did you develop this attribute?
Consider your favorite books, movies, works of art, etc. Have these influenced your life in a meaningful way? Why are they your favorites?
What was the most difficult time in your life, and why? How did your perspective on life change as a result of the difficulty?
Have you ever struggled mightily for something and succeeded? What made you successful?
Have you ever struggled mightily for something and failed? How did you respond?
Of everything in the world, what would you most like to be doing right now? Where would you most like to be? Who, of everyone living and dead, would you most like to be with? These questions should help you realize what you love most.
Have you experienced a moment of epiphany, as if your eyes were opened to something you were previously blind to?
What is your strongest, most unwavering personality trait? Do you maintain strong beliefs or adhere to a philosophy? How would your friends characterize you? What would they write about if they were writing your scholarship essay for you?
What have you done outside of the classroom that demonstrates qualities sought after by universities? Of these, which means the most to you?
What are your most important extracurricular or community activities? What made you join these activities? What made you continue to contribute to them?
What are your dreams of the future? When you look back on your life in thirty years, what would it take for you to consider your life successful? What people, things, and accomplishments do you need? How does this particular scholarship fit into your plans for the future?
It is often hard for applicants to come up with the genius essay topic for scholarship essay. Here are some examples of the popular scholarship essay topics to give you an idea:
The Person Who Influenced My Views
The Goals I Will Achieve in 10 Years
What I Do Best, My Biggest Success
My Dreams
My Inspiration
The Destiny in My Hands
The Doors I Have Opened
The Tea
Useful links

5-paragraph Essay
Admission Essay
Argumentative Essay
Cause and Effect Essay
Classification Essay
Comparison Essay
Critical Essay
Deductive Essay
Definition Essay
Exploratory Essay
Expository Essay
Informal Essay
Literature Essay
Narrative Essay
Personal Essay
Persuasive Essay
Research Essay
Response Essay
Scholarship Essay
© 2004-2018 EssayInfo.com – Essay writing guides and tips. All rights reserved. Privacy Policy