Home

MBA Courses

MBA Degree
Part Time MBA
Online MBA

Masters

Masters in Management
Masters in Finance

EMBA

Admissions

GRE Prep
Student Loans
Why MBA?
Resources
Hear From Business Schools

GMAT

Business School

MBA Rankings

MBA Jobs
Register or Login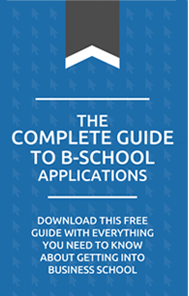 Register with BusinessBecause
Register with BusinessBecause for full access to the site – including the latest course and business school news, success stories and career inspiration. Registering will create your profile and allow you to network with other members, you can set your display preferences once registered by going to 'Edit Profile'
It's free to sign up and for a limited period you can download our Complete Guide to Business School Applications.
Register and complete your profile
to access the 300+ MBA Jobs Featured in the Job Zone
UPGRADE YOUR PROFILE NOW
(50% including a profile photo!)

It only takes 2 mins and it could change the course of your career
TRIUM Global Executive MBA
If you can't find what you're looking for here try using the search box at the top or check out the news section for hundreds of b-school stories.
TRIUM Global Executive MBA
New York University
Stern School of Business
London School of Economics and Political Science
HEC Paris School of Management
École Des Hautes Études Commerciales De Paris
#
5
for
CAREER
ADVANCEMENT
#
2
for
GLOBAL
EXPERIENCE
Visit Program
Contact Us
Download Brochure
Look ahead to the business world of tomorrow.
Successful business leaders require a mastery of business skills along with an understanding of how to see opportunity in our increasingly unpredictable world. With six immersive course modules across three continents, TRIUM students explore business trends within the context of current political and economic shifts so that they are first among their peers to understand the opportunities and risks of the current business world and that of tomorrow.
Program Information
Duration of Program (Months)
Learning Environment
Average Total Tuition (USD)
$0
Return On Investment
Average Salary Increase
Post Degree
Schedule Information
Class Schedule
6 modules, each module every 3 months approximately, 10-12 consecutive days
LSE Campus
Stern Campus
Graduation
Class
Entry Exams
Is the Executive Assessment Accepted?
GMAT and GRE are optional. We may require a GMAT for???applicants with less than 15 years experience. There is an option for applicants to waive this requirement as part of their application and they will be advised by the admissions committee if it is necessary.
Admissions FAQs
Q1
How does the TRIUM curriculum differ from other global degree programs?
How does the TRIUM curriculum differ from other global degree programs?
TRIUM was the first Executive MBA program to integrate into its curriculum a study of the economic, social, and political context in which business decisions are made today. These areas, so critical to conducting global business in the 21st century, are often neglected in "traditional" MBA programs. In contrast, TRIUM students will focus on global socio-economic and political contexts at London School of Economics. Together with NYU Stern's widely recognized strength in finance and accounting and HEC Paris's leadership in marketing and management, plus top-ranked faculty who teach in every learning location, this combination ensures academic rigor and excellence throughout the program.
Q2
Do I have to take the GMAT or GRE?
Do I have to take the GMAT or GRE?
TRIUM does not generally require GMAT or GRE scores to complete the Formal Application for applicants with 15 years or more of work experience. You can apply to waive the requirement for a GMAT as part of your application and this will be considered by the admissions committee.
Q3
What is the class size?
What is the class size?
The size of the cohort is approximately 65.
Q4
When does the TRIUM class commence?
When does the TRIUM class commence?
A new class enters each September. Executives can earn their degrees in just 17 months over three calendar years. A list of upcoming module dates may be viewed here.
Q5
What credentials will I receive as a graduate?
What credentials will I receive as a graduate?
Is TRIUM accredited? TRIUM graduates earn a single MBA degree jointly conferred by NYU Stern, LSE, and HEC Paris, all of which are accredited by the most widely respected academic accreditation organizations worldwide, including AACSB, AMBA, and EQUIS.
Don't see the answer you need?
Contact us
Learn with a diverse peer group of global executives.
TRIUM students come from all corners of the globe and every type of business endeavour having already acheieved many of their ambitions. They chose TRIUM to help them stay ahead, to grow professionally and personally and to explore their future potential.
Cohort Information
Average Years of
Work Experience
Top Student Industries
Financial Services
30%
Energy/Manufacturing
14%
IT
8%
Consulting
7%
Legal Services
5%
Be a part of a truly global TRIUM community.
The relationships that form among TRIUM classmates are one of the many powerful long-term benefits of the program. After graduation, the Global Alumni Network expands dramatically as TRIUM graduates become alumni not only of TRIUM, but also of each of the three partner schools.
Featured Alumni
Leesa Soulodre– Class of 2014
Managing Partner and Chief Reputation Risk Officer, RL Expert Group
Read more
Gonta Kashio – Class of 2017
Managing Director and Head of Business Development for Shiseido Group
Read more
Featured Alumni
Leesa Soulodre – Class of 2014
Managing Partner and Chief
Reputation Risk Officer, RL Expert Group
Board Advisor to GoGames (UAE),
Prezly (BE), Autoscout Inc (USA), Who's Good (KR), Hinounou (CH), BeautyButton
(SG) and FashionMatch (KR).
"It takes all types of people to create the
future: thinkers and doers, logical pragmatists, innovators and intuitive
visionaries, experts and generalists and bright lights that thrive on
transformation rather than incremental change. It was a great privilege to join
leading scientists, professors, experts, entrepreneurs, corporates and
investors from all over the world in my TRIUM cohort to both collaborate and
co-create."
https://www.triumemba.org/trium-life/articles/alumni-profile-leesa-soulodre-class-of-2014/

Featured Alumni
"I was drawn to TRIUM because it was uniquely positioned as a
global program that leverages on three world-class business and graduate
schools with respective disciplines and strengths in Macro-Economics and
Socio-Political Science (LSE), Strategic Management (HEC) and Strategic Finance
(NYU). It was the ideal global program that I believed would best equip me with
a new vision, knowledge, skills and the needed confidence in preparing for my
next professional challenge."
https://www.triumemba.org/trium-life/articles/alumni-profile-gonta-kashio-class-2017/

Thought Leadership
Leading in the Digital Age

Marc Beretta
Hear from the experts.
Drawing upon the distinguished faculties of NYU Stern, LSE and HEC Paris, all TRIUM modules are taught by top-ranked faculty members and feature expert industry guest speakers.
Meet the Faculty
Aswath Damodaran
Professor of Finance at New York University Stern School of Business
Robert Falkner
TRIUM Academic Director, LSE London
Oliver Gottschalg
TRIUM Academic Dean
Aswath Damodaran
Professor of Finance at New York University Stern School of Business
Professor Damodaran holds the Kerschner Family Chair in Finance Education and is Professor of Finance at New York University Stern School of Business. He received a B.A. in Accounting from Madras University and a M.S. in Management from the Indian Institute of Management. He earned an M.B.A. (1981) and then Ph.D. (1985), both in Finance, from the University of California, Los Angeles.
His contributions to the field of Finance have been recognized many times over. He has been the recipient of Giblin, Glucksman, and Heyman Fellowships, a David Margolis Teaching Excellence Fellowship, and the Richard L. Rosenthal Award for Innovation in Investment Management and Corporate Finance. His student accolades are no less impressive: he has been voted "Professor of the Year" by the graduating M.B.A. class five times during his career at NYU.
In addition to myriad publications in academic journals, Professor Damodaran is the author of several highly-regarded and widely-used academic texts on Valuation, Corporate Finance, and Investment Management. He is also recognised as a global expert in valuation and is called upon regularly by the world media to provide his expert views on global company projections.
Robert Falkner
TRIUM Academic Director, LSE London
London School of Economics (LSE)
TRIUM Academic Director, LSE London
TRIUM Modules 1 and 5
Robert Falkner is Reader (Associate
Professor) in International Relations at the London School of Economics and
Political Science.
Robert holds degrees in politics and
economics from Munich University in Germany and a doctorate in international
relations from Oxford University. He is an associate of the Grantham Research
Institute on Climate Change and the Environment at LSE and an associate fellow
of Chatham House, the London-based international affairs think tank.
Robert has undertaken consultancy and
advisory work for private and public sector organizations and has taught on executive
education programs for many years, including for TRIUM, the World Economic
Forum, Duke Corporate Education and the British and Dutch governments.
Oliver Gottschalg
TRIUM Academic Dean
Oliver Gottschalg is an Associate
Professor in the Strategy Department at HEC Paris and the HEC Academic Dean of
the TRIUM Global Executive MBA. He directs the HEC Private Equity Observatory
and teaches courses on PE strategies and management buyouts.
Oliver Gottschalg is Head of Research at
Peracs Ltd., a specialized advisory firm providing advanced private equity fund
due diligence and benchmarking services. He repeatedly served as advisor to
policy makers at the national and European level in the context of the ongoing
debate about a possible need for regulation of the Private Equity industry.
He graduated from the University of
Karlsruhe and holds a Wirtschaftsingenieur Diploma, an MBA from Georgia State
University and an MSc and PhD degree from INSEAD.