Your Metro. Your MBA.
Menu

Houston

Atlanta

Baltimore

Boston

Chicago

Dallas

Denver

London

Los Angeles

New York City

Online

Philadelphia

San Diego

San Francisco

Seattle

Toronto

Washington, DC

Business Schools

View All Schools in Houston »

C.T. Bauer College of Business – University of Houston

Cameron School of Business – University of St. Thomas

Jesse H. Jones School of Business – Texas Southern University

Mays Business School – Texas AM University

McCombs School of Business – University of Texas at Austin

Rice University – Jones Graduate School of Business

Rice University – [email protected]

University of Houston – Downtown

News

All News

All Regions MBA News

Atlanta MBA News

Baltimore MBA News

Boston MBA News

Chicago MBA News

Dallas MBA News

Denver MBA News

Houston MBA News

London MBA News

Los Angeles MBA News

New York City MBA News

Online MBA News

Philadelphia MBA News

San Diego MBA News

San Francisco MBA News

Seattle MBA News

Toronto MBA News

Washington, DC MBA News

Resources

Admissions Tips

Houston MBA Programs That Don't Require the GMAT or GRE

Houston MBA Programs That Don't Require Work Experience

Houston 1-Year MBA Programs

Bloomberg Businessweek Best Business Schools Ranking

Financial Times MBA Rankings

Forbes Best Business School Ranking (United States)

The Economist Full-Time MBA Ranking

U.S. News & World Report Best Business Schools Rankings

GMAT ADVICE

GMAT Preparation

MBA Admissions Consulting

What Is The GMAT?

What Is The GRE?

MBA Programs That Don't Require the GMAT or GRE

MBA Programs That Don't Require Work Experience

Calendar

Register
Log In
Search Programs
McCombs School of Business – University of Texas at Austin
School Overview

Full-Time MBA

Texas Evening MBA – Austin

Texas Weekend MBA – Houston

Executive MBA

Register Now With MetroMBA
UT Austin Weekend MBA Program Structure
McCombs offers a part-time working professional MBA program in Houston. The UT Austin part-time MBA offering allows students to pursue an MBA while continuing with their careers. The 48-credit curriculum can be completed over two years at the Houston campus, located at the University of Texas Health Science Center. Classes are held on alternating weekends from 4-8 p.m. Fridays, and Saturdays from 8 a.m. to 5 p.m with an hour break for lunch.
Curriculum
The UT Austin Weekend MBA program in Houston covers integral business values and skills like teamwork and leadership skills, business ethics, effective communication, and problem solving abilities. This is a lock-step, cohort-based program that allows students to build a strong business network, and work closely with the majority of their peers in the program. At the beginning of the first semester, students are put into study groups of four to six people. Each student is also assigned a mentor from the previous year's class to provide guidance. The program is completed over the course of five semesters, including a summer semester consisting of six credit hours' worth of classes.
Class Profile
The class of 2019 currently has 79 students. Students have an average of seven years' work experience and an average GMAT score of 639. The average GPA of enrolled students is 3.32 and the class is composed of 18 percent international students and 27 percent of students that identify as female.
Career Statistics
The McCombs School of Business is usually ranked among business schools in the U.S. for the number of MBA graduates who get job offers. The median salary of UT Austin full-time MBA graduates is around $115,000 with a median signing bonus of $25,000.
Tuition and Financial Aid
The UT Austin Weekend MBA program costs a total of $110,460, spread over the course of five semesters, each individually totaling $22,090, with the exception of the first semester where students will pay $22,100. This includes tuition and registration fees, all course materials including an iPad, foreign travel insurance, lodging and meals during a global residency, a residency component during the first semester and on select weekends throughout the program, student meals during class weekends, career management advisors and recruiting events, workshops and meetings with career coaches and a guest speaker series. This cost is paid in installments with each payment usually due six weeks before each semester begins. A $2,000 deposit is required once applicants accept admission.
Admissions Procedures
Applicants to the UT Austin weekend MBA program at the McCombs School of Business, Houston must have a Bachelor's degree or a comparable degree from a foreign academic institution.
The application process is completely online. Applicants submit a completed application, official transcripts, GRE or GMAT scores, a current resume, one professional recommendation letter and a $200 application fee. Students must also submit two required essays and may one optional essay.
The the first required essay asks the applicant to explain their motivation for choosing McCombs. The other required essay is an introduction of the student. It can be completed in one of two formats: a 250-word essay or a one-minute video. The optional essay is an opportunity to explain any area of concern with your application.
International applicants must also submit TOEFL or IELTS scores. Interviews are by invitation only.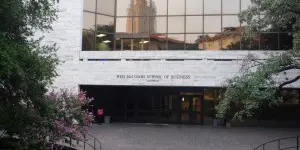 Find the graduate business management program that fits your needs.
Deadlines and Events

Deadline


Texas McCombs Full-Time MBA Deadline – Round One


All Day


Deadline


UT Austin McCombs School of Business Evening MBA Deadline – Round 4


All Day


Deadline


Texas McCombs Full-Time MBA Deadline – Round Two


All Day


Deadline


Texas McCombs Full-Time MBA Deadline – Round Three


All Day
View All Events »
Program Stats
| | |
| --- | --- |
| Average GMAT | 639 |
| Average Graduate Salary | $115,000 |
| Average GPA | 3.32 |
| Cohort Size | 79 Students |
| Female Student Body | 27% |
| Length of Program | 2 Years |
McCombs School of Business – University of Texas at Austin News
Sep 4, 2018
Hot MBA Jobs: Computer and Information Systems Manager
Jul 24, 2018
Inside the McCombs MBA Class of 2020
Jun 19, 2018
What are the Best MBA Programs by Specialty?
Jun 18, 2018
McCombs School of Business Announces Upcoming MBA Deadlines
May 23, 2018
The Texas MBA Programs Guide: Houston vs. Dallas

All McCombs School of Business – University of Texas at Austin News »